Streamlined, Data-Driven Evaluations & Combines
Drive Hockey's player tracking system makes pro-level evaluations affordable for amateur hockey. Run any drills or scrimmages, get a detailed breakdown of all your players and auto-generate feedback reports for every participant in your team tryouts.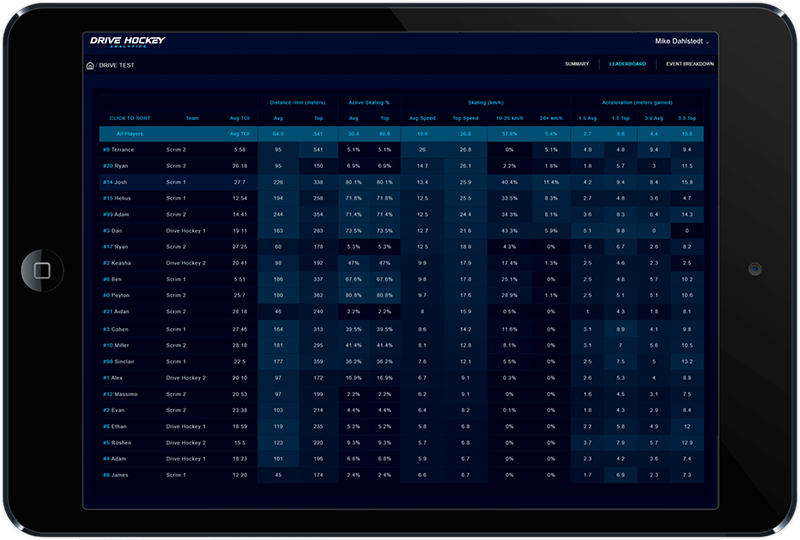 Use our player tracking system to auto capture a players performance during practice, scrimmage or games and compare to other players. Consolidate data over a series of events for a true assessment, and provide players with a detailed analytical report after the evaluation camp.
Measures all players simultaneously – no waiting in lines on ice
Captures deep player performance, accurately, during games / practice
Simple devices, no on-ice equipment needed
Standardizes evaluations across multiple cohorts
Provides player's with objective feedback reports and benchmark ratings
| | Traditional Evaluations | Using Drive Hockey's Player Tracking |
| --- | --- | --- |
| Player feedback | None provided, except maybe final cuts | Every player receives a detailed analytic report |
| Evaluators | Relied on to evaluate all aspects of performance based on eye-test, when evaluator catches the player. | Evaluators can focus on game play and soft skills |
| Evaluation scores | Generalized scores and a range of scores depending on the evaluators | Removes all bias, actual quantified performance data captured accurately |
| Evaluation process | Typical single players perform drill one at a time so evaluator can have a chance to watch and rate | All players can do drills at same time, all performance is captured accurately |
| Known players | Some existing 'bias' depending on evaluators | Removes all bias, only actual performance data |
| Multi-camps | Comparing players across multi-camps more difficult | Players compared from remote situations accurately |
| Game play | Difficult to evaluate multiple players at once | All players evaluated on every skill during games |
| | | |
Tools & Player Performance Metrics Captured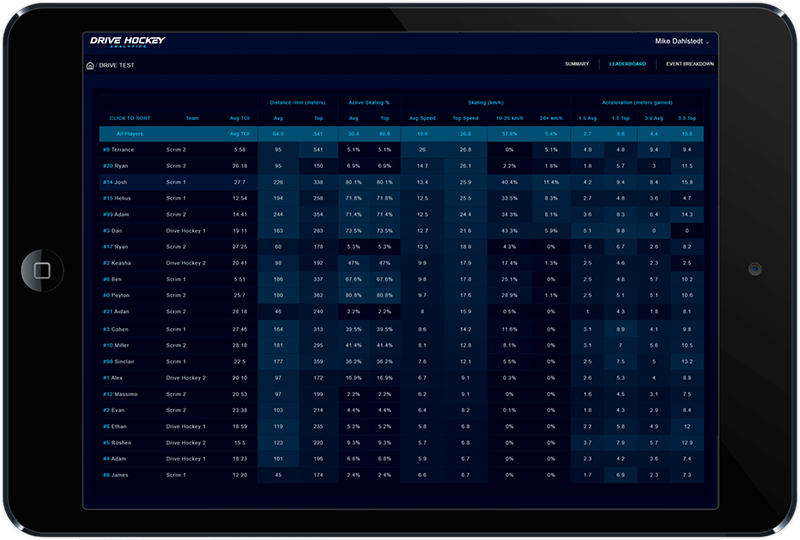 Player Leaderboard
This is a sortable list of all players throughout all the evaluation sessions (practice / games) they participated in. Sortable fields can be customized on request, standard reports include:
Distance skated /min; best, average
Skating vs. stationary
Speed: top, average, time at speed
Puck Pursuit acceleration bursts
Sprint acceleration
Edges; High speed tight turn radius, distance gain & repetitions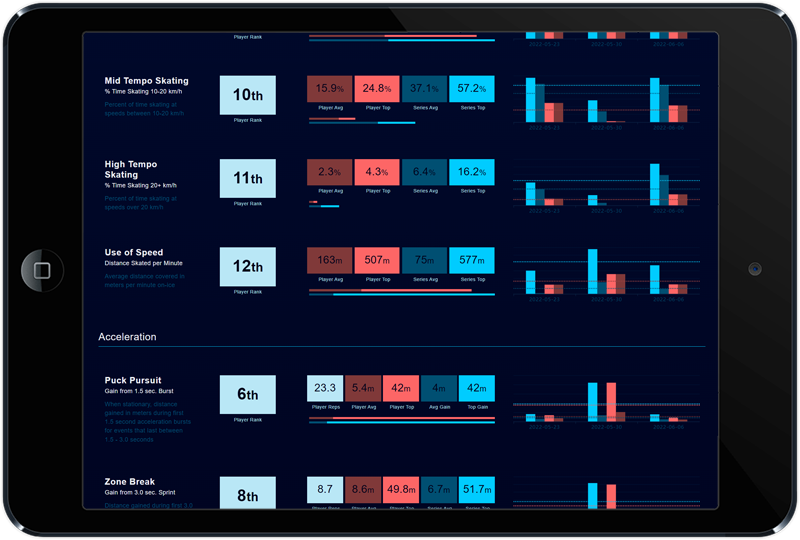 Player Summary vs. Group
A high-level summary of key performance metrics and how player performed compared to the evaluation average / top scores. Easily flip between players and their average / top ratings. See how they trended across multiple events.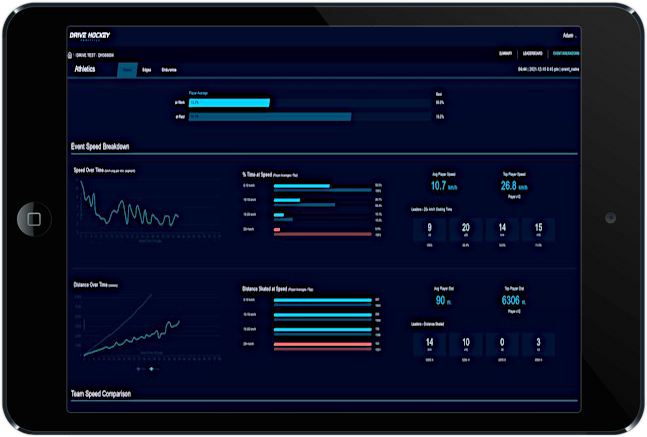 Detailed Player Reports, Breakdown
Zoom into each individual evaluation skills or scrimmage session for a detailed player-by-player athletics breakdown. This breakdown report is also available for each player to access individually through their own login. Providing a post-evaluation report gives players great additional value for the money they spend on participating in an evaluation camp.
Custom Evaluation Reports / Data API
We can create a custom report for your organization's use over time based on the metrics we collect. If you prefer to access the data through an API and generate your own player reports, we can arrange that access as well. Contact us directly for these custom solutions.
Book Service in Your Region
Drive Hockey is setting up a network of regional partners who can provide an affordable service without investing into your own equipment. Click below to find a partner and book service in your region.
Order Now for the 2022-23 Season
Limited systems available – Order a Drive Hockey Tracking System and Player Tags now while supplies last, or pre-order for our next production run.
Contact us directly for pricing