If You Can Measure it, You Can Improve it!
Drive Hockey provides detailed data to breakdown player performance and benchmark their skills. Quickly identify areas to work on, and use data-driven reports to supplement and support player development programs across all skill levels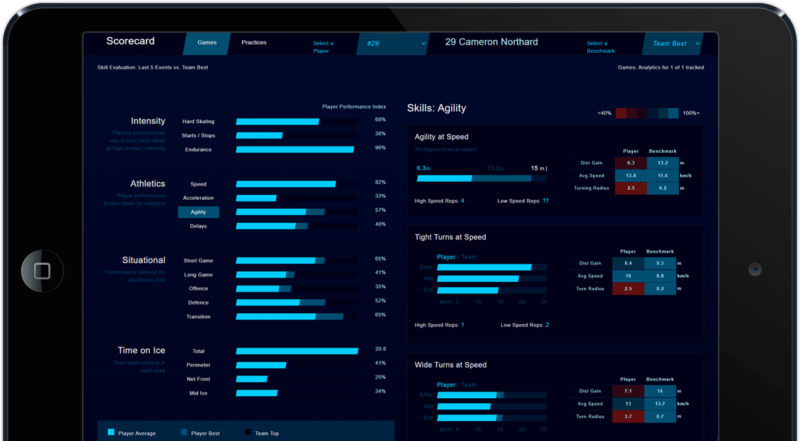 Auto capture, breakdown and benchmark every players skill
Player profile showing average and top ratings vs. a benchmark
Breakdown of specific skills and performance metrics for each
Practice and game tracking
Track progress over time
Coach and player logins to access reports
Our AI models have been built and trained to identify specific hockey skills and performance metrics from our deep data sets. These combine to form index ratings, that provides accurate, measureable player ratings across a number of meaningful hockey attributes. Every time you track a game or practice using the Drive Hockey Analytics System, you create a deeper, more accurate assessment of your players skills and the exact areas they can improve.
| | Player Development Challenges | Using Drive Hockey's Player Tracking |
| --- | --- | --- |
| Player Feedback | Is subjective, will vary from person to person and could be good or bad advice depending on the person | Data that provides truth through numbers, with a detailed assessment and performance breakdown |
| Personalized Development | Is expensive, top trainers need time to evaluate a player and what they need to work on to improve | Provides trainers a quick understanding of some aspects about the player relative to others |
| Player Development Progress | Is measured through qualitative feedback | Players can set measureable performance goals and track their progress towards over time |
| Benchmarking and Comparisons | Typically done once per year during evaluations | Real-time access to see where each players individual skills stack up against their peers |
| Reporting | Almost non-existent | On a per event basis, or summarized progress over time |
| Trainer Resource | Qualitative feeback, or time consuming video review | Quick performance details and measurement over time |
Player Development Focused Analytics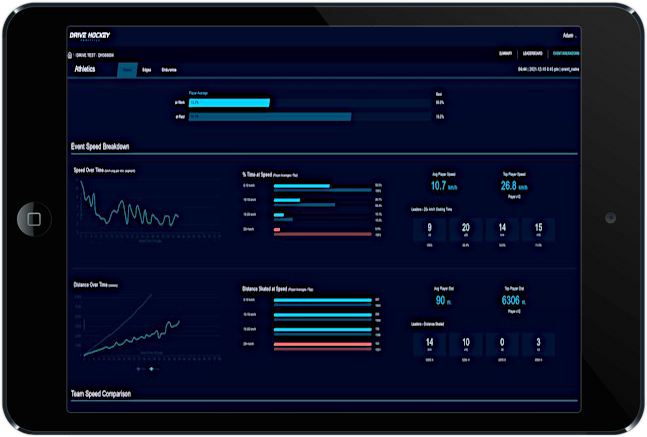 Detailed Player Reports, Breakdown
Track games and practices to access detailed player performance breakdowns across a number of game specific skills. View detailed skill reports to breakdown an entire team, or zoom in on a player-by-player basis. This breakdown report is also available for each player to access individually through their own login.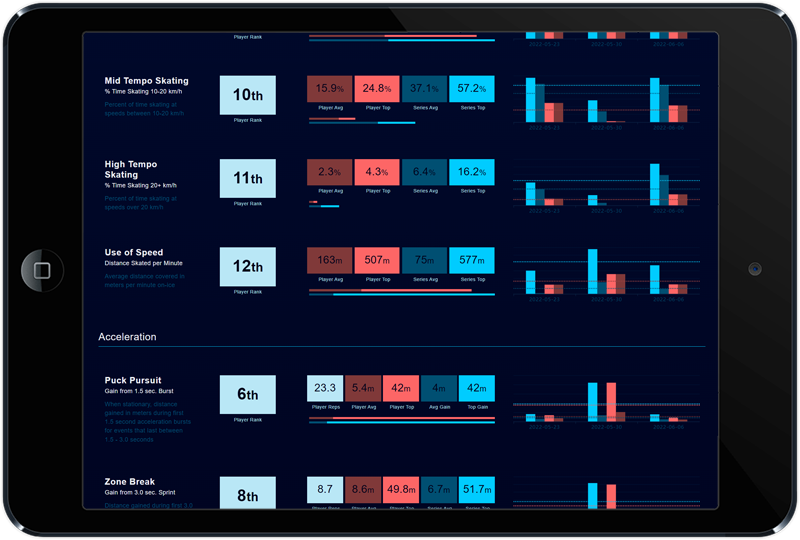 Player Summary vs. Peer Benchmark
A high-level summary of key performance metrics and how player performed compared to their peer average / top scores. Easily flip between players and their average / top ratings. See how they trended across multiple events.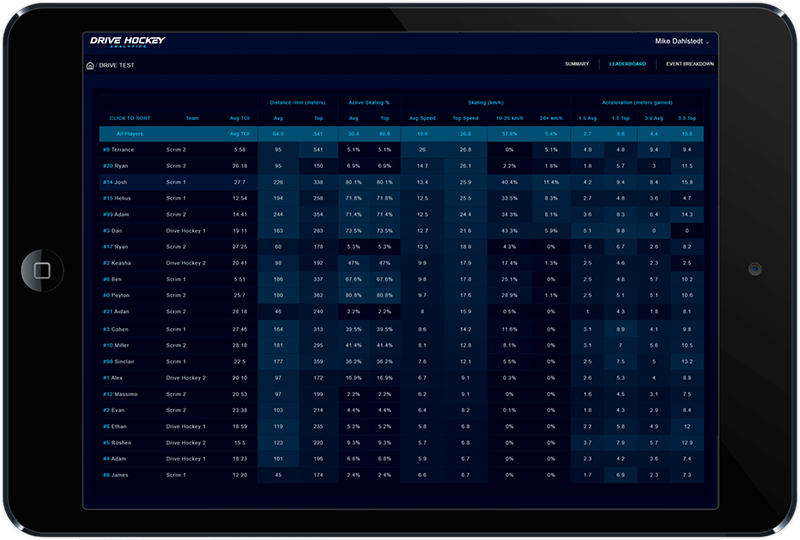 Player Leaderboard
This is a sortable list of all players throughout all the evaluation sessions (practice / games) they participated in. Sortable fields can be customized on request, standard reports include:
Distance skated /min; best, average
Skating vs. stationary
Speed: top, average, time at speed
Puck Pursuit acceleration bursts
Sprint acceleration
Edges; High speed tight turn radius, distance gain & repetitions
Custom Evaluation Reports / Data API
We can create a custom report for your organization's use over time based on the metrics we collect. If you prefer to access the data through an API and generate your own player reports, we can arrange that access as well. Contact us directly for these custom solutions.
Book Service in Your Region
Drive Hockey is setting up a network of regional partners who can provide an affordable service without investing into your own equipment. Click below to find a partner and book service in your region.
Order Now for the 2022-23 Season
Limited systems available – Order a Drive Hockey Tracking System and Player Tags now while supplies last, or pre-order for our next production run.
Contact us directly for pricing