Give your Team a Competitive Edge
Increase the interest, effort and competitive levels of practices through leaderboards and performance benchmarking. Access deep AI-driven post-game insights to see how team tactics and individual players skills translated to on-ice performance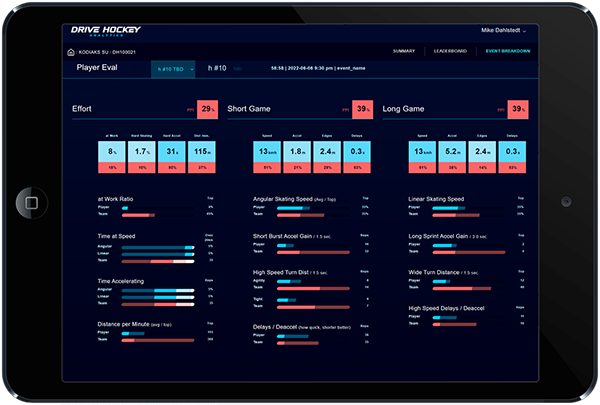 Our system tracks thousands of performance data points, and provides coaches and players with simplified, Key Performance Metrics that can compared at a high-level, or drill into detail. Access simple, per-event leaderboards :
Perimeter Play, Net Front and Open Ice situational breakdowns
Player Performance Index to see how individual skills stack up to others
Game and Practice tracking use for individual teams

Adaptive learning

over time to rank a players ability vs team / age group
Detailed Intelligence for Immediate Player Impact and Game IQ
Athletics:
Speed, Acceleration, Edges, Delays, Endurance

Effort:
Work / Rest, Distance over Time
Time at Speed, Time Accelerating

Short Game:
Angular Speed
Puck Pursuit
Tight Turns, Agility
Delays, Deaccel

Long Game:
Linear speed
Breakout Acceleration
Wide Turn Distance
All Practice Reports, plus:

Game Impact:
Time on Ice, Zone Time
Shift Length, Shift Change Situations
Exits, Entries, Success Rate
Transition Speed, Location
Location Heatmaps

Situational Skills / Performance:
Perimeter Play, Net Front, Open Ice

Coaching Tools:
Play Review / Markup / Share
Line Combo Planning / Forecasting
Increased IQ & Assessments, including:
Tactical Breakdowns:
Battles
Passing
Scoring Chances
Perimeter Play
Breakouts / Zone Entries
Defensive Coverage
*Coming Soon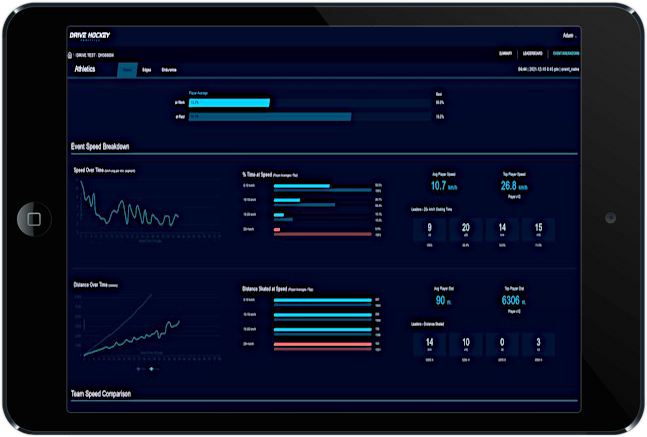 Player Access to Skill Reports, Benchmarks
Track games and practices to access detailed player performance breakdowns across a number of game specific skills. View detailed skill reports to breakdown an entire team, or zoom in on a player-by-player basis. This breakdown report is also available for each player to access individually through their own login.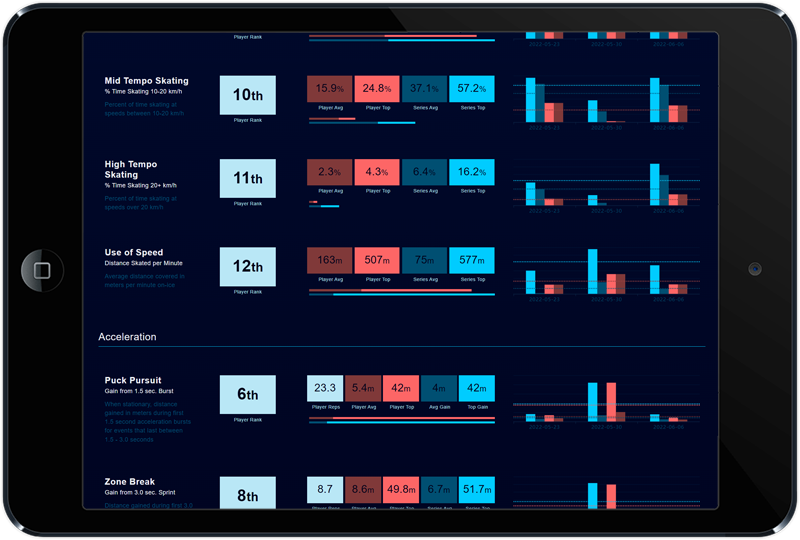 Player Summary vs. Peer Benchmark
A high-level summary of key performance metrics and how player performed compared to their peer average / top scores. Easily flip between players and their average / top ratings. See how they trended across multiple events.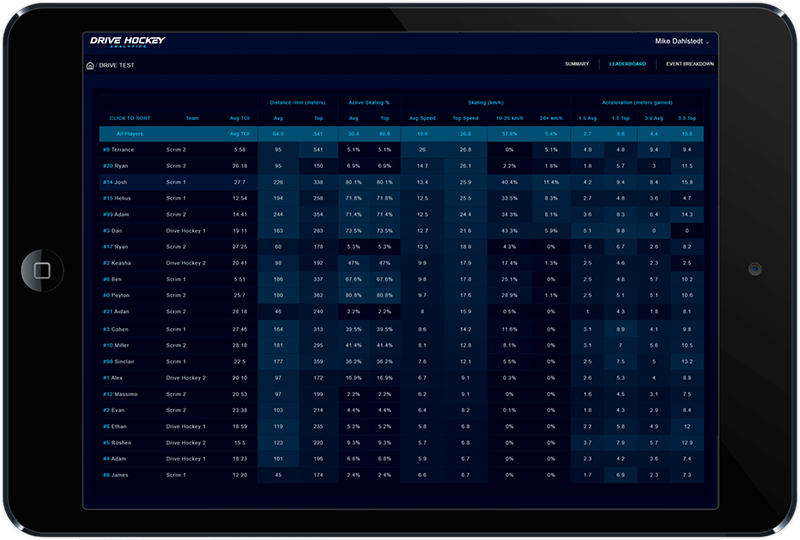 Practice, Game, Series Leaderboards
This is a sortable list of all players throughout all the evaluation sessions (practice / games) they participated in. Sortable fields can be customized on request, standard reports include:
Distance skated /min; best, average
Skating vs. stationary
Speed: top, average, time at speed
Puck Pursuit acceleration bursts
Sprint acceleration
Edges; High speed tight turn radius, distance gain & repetitions
Book Service in Your Region
Drive Hockey is setting up a network of regional partners who can provide an affordable service without investing into your own equipment. Click below to find a partner and book service in your region.
Order Now for the 2022-23 Season
Limited systems available – Order a Drive Hockey Tracking System and Player Tags now while supplies last, or pre-order for our next production run.
Contact us directly for pricing